Nov. 13, 2020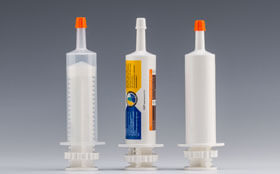 The veterinary syringe often need be printed, three common printing ways as follow:
Offset printing is a commonly used printing technique in which the inked image is transferred (or "offset") from a plate to a rubber blanket, then to the printing surface.
Screen printing is a printing technique whereby a mesh is used to transfer ink onto a substrate, except in areas made impermeable to the ink by a blocking stencil. A blade or squeegee is moved across the screen to fill the open mesh apertures with ink, and a reverse stroke then causes the screen to touch the substrate momentarily along a line of contact. This causes the ink to wet the substrate and be pulled out of the mesh apertures as the screen springs back after the blade has passed. One color is printed at a time, so several screens can be used to produce a multicoloured image or design.
Thermal-transfer printing is a digital printing method in which material is applied to plastic by melting a coating of ribbon so that it stays glued to the material on which the print is applied.