Application: Syirnges are well-suited for the oral administration of gels, creams and vitamin pastes to horses, sheep and pets.
Advantage of our horse syringe:
1. Syringe can improve your economic benefits
We also produce push rods with scale and positioning ring pre-filling, which can achieve precise drug delivery and reduce waste; our products, tubes and caps are rigorously matched, have good sealing and no leakage, and no residue after injection, which improves your product medicine. Efficiency, thereby enhancing your economic efficiency.
2. Syringe can improve your production efficiency
We can provide different assembly methods according to your drug ingredients and filling methods. After you receive the goods, you can directly fill the products on the high-speed filling machine, saving production time and improving production efficiency.
3. Syringe can guarantee your stable production and supply
We have a complete SOP process, from raw materials, workshops, production, quality inspection, release and other aspects of strict control to ensure that your delivery time is worry-free.
If you want to get free samples and any other question, contact us online or email directly!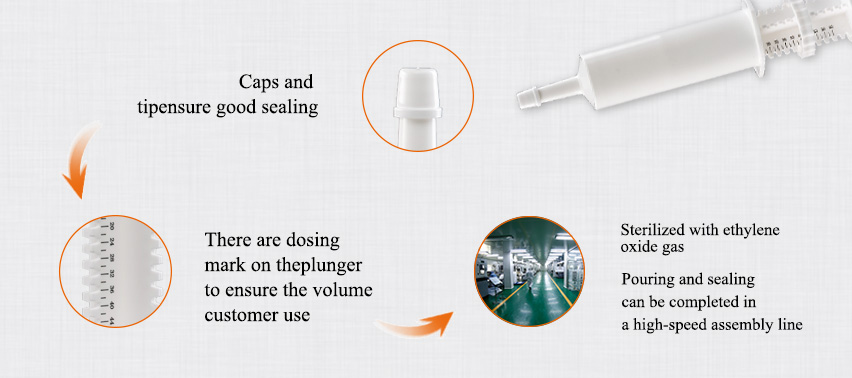 The way of usage:
60ml horse/equine dosing syringe usage way, first take the cap off, and then rotating the ring until the volume you want, stop and push then plunger. Finally close the cap.
Filling way:
According to your machine filling, syringe filing from berral tip or bottom of the tube is both avaliable.