Jun. 10, 2021
Syringes are a common medical appliance. At first, the materials were mainly made of metal and glass. With the advent of polymer materials, plastic syringes have gradually become the mainstream. After years of development, this kind of veterinary packaging has increased the drug storage function from the initial injection function, and a new type of packaging has come out, that is, a intramammary injector.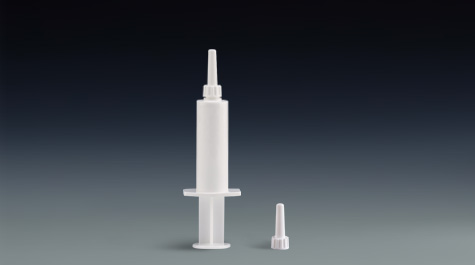 The veterinary syringe is composed of a sleeve, a push rod, a piston, a protective cap, and a positioning ring. It is easy to use and avoids contamination. With the continuous changes in market demand, some veterinary drug products also use this packaging, such as cow udders. Inflammation, pet nutrition cream, horse oral paste, etc. According to the different medicines used, this kind of packaging is divided into two different designs of thick head and thin head. Among them, the thin head syringe is mainly used in the packaging of cow mastitis and cockroach medicine.
The thin-head design means that the needle part of the intramammary injector is relatively thin. This design can reduce the amount and speed of drug delivery, and is mainly used for drug packaging with relatively small dosage. Cow mastitis generally requires the help of a catheter to give each breast a separate drug, so that the drug directly acts on the pathogenic area or lesion in the breast area. It has the characteristics of high local drug concentration, fast, efficient, simple and easy to implement. The veterinary syringe is mainly used as a bait anti-cockroach drug in the field of cockroach medicine. When applying the medicine, it adopts a dot method, the dosage is small, and the thin-head design makes it easier to control the dosage.
As a new type of packaging container, intramammary injectors are favored by many domestic and foreign veterinary drug manufacturers and have a good market response.