Nov. 18, 2020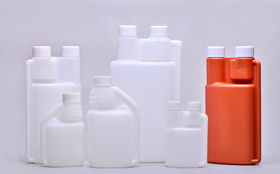 The double neck bottle has twin neck because of the function of this bottle. The twin neck bottle can measure liquid volume which you want to get.
This 500ml double neck bottle is designed by siphon principle. Siphon can be described as a tube or pipe that allows liquid to flow from the higher level to the lower level. This double neck bottle has two chambers, one is bigger, the other one is small, in generally, bigger chamber is filled liquid, small chamber is empty,but the small one has scale line.So when you need given volume liquid, you can press the bigger chamber,then the small chamber can be filled liquid.
So if you need given volume liquid, I suggest that you can choose twin neck bottle.