Nov. 19, 2020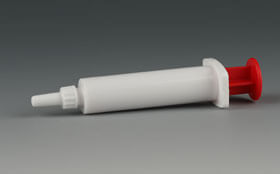 If you want choose the suitable and high quality cow mastitis syringe,you need know what we need exam the syringe.
First, you need choose the material, cow mastitis syringe is generally made of plastic or glass.The plastic cow mastitis syringe is cheaper, and don't easily break compared with glass cow mastitis syringe. So the plastic cow mastitis syringe is instead of glass cow mastitis syringe little by little now. If your medicine don't react with plastic, I suggest you can choose the plastic cow mastitis syringe.
Second, the cow mastitis syringe need packaging and store medicine, so you need test the gas tightness of syringe. How to test? first, you fill half full of water in the syringe tube,then insert the piston into syringe, then move the tip cap to eliminate air,then plug the tip cap, then apply 30N axial force on the plunger for 30 minutes, in the time, you need observe whether the tip cap and piston leak water.
The last, the syringe directly contact medicine, so must keep the intramammary syringe sterility. Generally the syringe must made in standard GMP workshop.In addition,the syringe can be sterile by EO to keep sterility.