Oct. 22, 2020
HDPE chemical liquid bottle can control the dosing liquid you would like to use, there are two cavities for two caps, one is the main repository, another is a simple squezee, a precise amount of liquid can be transferred to the smaller dispensing chamber. There is no need to pour from one container to another, which can be both messy and potentially dangerous.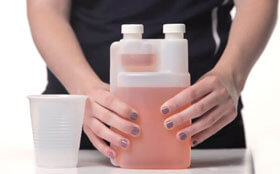 As an added feature, both the dispensing and primary cavities have easy-to-read measurements to prevent dual pours. Double neck bottles are available in a range from 100ml to 1000ml, all in nature hdpe material.
Twin neck bottles are mainly used for chemical, household and industrial cleaners, horticultural, pond and aquarium treatments, cosmetic oils, fuel additives and similar applications.